Story Street Food Pantry Comes to All Care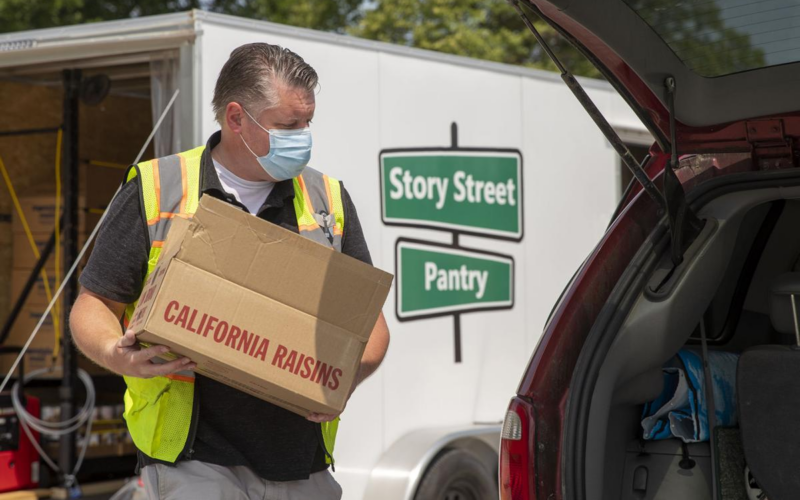 Did you know fewer than one in ten people eat the recommended daily amount of vegetables, and only 40% of children and less than 14% of adults eat enough fruit? Fruit! That's nature's candy! Poor nutrition is making us sick. It contributes to costly diseases, including type 2 diabetes, obesity, heart disease, and some cancers.
On the opposite end of the spectrum, people with healthy eating habits live longer and have lower chances of developing serious health problems. For people with chronic diseases, healthy eating can help manage these conditions and prevent complications.
All Care believes that whole person health includes access to nutritious food. We emphasize this by creating a food access point monthly through our partnership with Story Street Pantry.
During the middle of the 2020 COVID-19 pandemic, Story Street Pantry was established as a nonprofit 501(c)(3) organization. Loren Knauss and other volunteers founded Story Street Pantry to leverage various Omaha and Council Bluffs food pantries' efforts to combat food insecurity. Their mission is to "offer healthy, nutritious food at no cost to people in need while always treating our clients with the highest level of dignity and respect."
Story Street Pantry is unique because they bring the pantry to the people with their trailer filled with nearly 8,000 pounds of food to partner locations. Their goal of reaching underserved populations is possible with partnerships like All Care, Thomas Jefferson High School, New Visions Homeless Shelter, and various apartment complexes.
The mobile pantry comes to All Care on the 4th Monday of the month, from 10:00 a.m. to 2:00 p.m., at our 902 South 6th Street health center. The pantry is open to all Iowans participating in SNAP, Free & Reduced Lunch Programs, or meeting The Emergency Food Assistance Program (TEFAP) income guidelines.
When individuals arrive at the pantry, they will be asked to complete the TEFAP eligibility form, then fill out a food order form for All Care volunteers to fulfill on the spot. The non-perishables are great nutritional options for the entire family.