All Care Leads in CDC Dental Guideline Implementation to Control COVID-19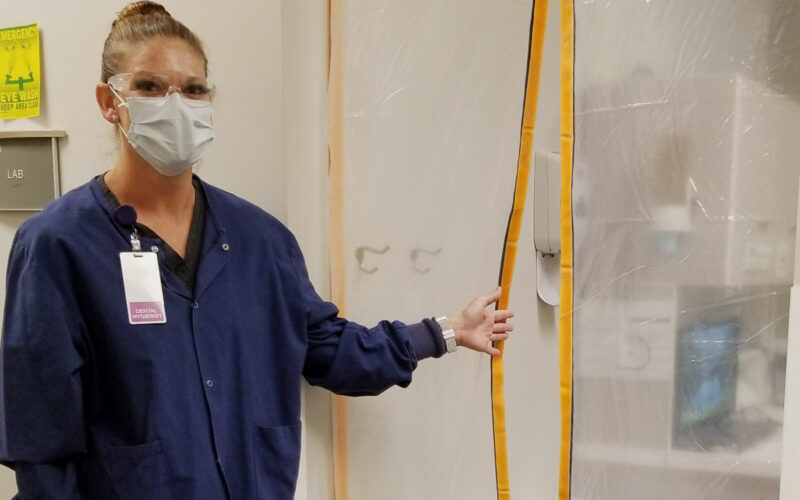 Walk into your dental office. Do you notice any changes? Dental offices around the metro and the nation have increased their use of Personal Protective Equipment (PPE). A few more have gone the extra mile to keep both patients and staff safe, by implementing changes to reflect Centers for Disease Control and Prevention (CDC) guidelines.
All Care Health Center did go that extra mile. All Care recognizes that dental facilities have unique characteristics that necessitate specific infection control considerations. When most dental clinics quit seeing patients, All Care continued to see patients with emergencies. While the overall influx of patients decreased, All Care made big changes.
Saria Burhenne has lead efforts at All Care Health Center to keep everyone safe – patients and staff. Burhenne, a dental hygienist at All Care Health Center, took on the additional role of the Infection Control Coordinator to understand then implement guidelines directed toward health centers from the CDC, Iowa Primary Care Association (IPCA), Iowa Department of Public Health (IPDH), and guidelines from Iowa's Governor Kim Reynolds. The guidelines include recommended infection prevention and control practices for routine dental healthcare delivery.
Using these recommendations and working with Burhenne and Dr. Jennifer Black, DDS, Melyna Avalos, Office Manager and the project's coordinator, oversaw the implementation of changes that created a safe place for not only dental work, but for everyone who walks into the health center.
Magnetic zip doors were added to each dental exam room. This is the change that patients immediately notice. In addition, return air grills were installed in dental exam rooms to allow air to circulate out of the room when the magnetic zip doors are closed.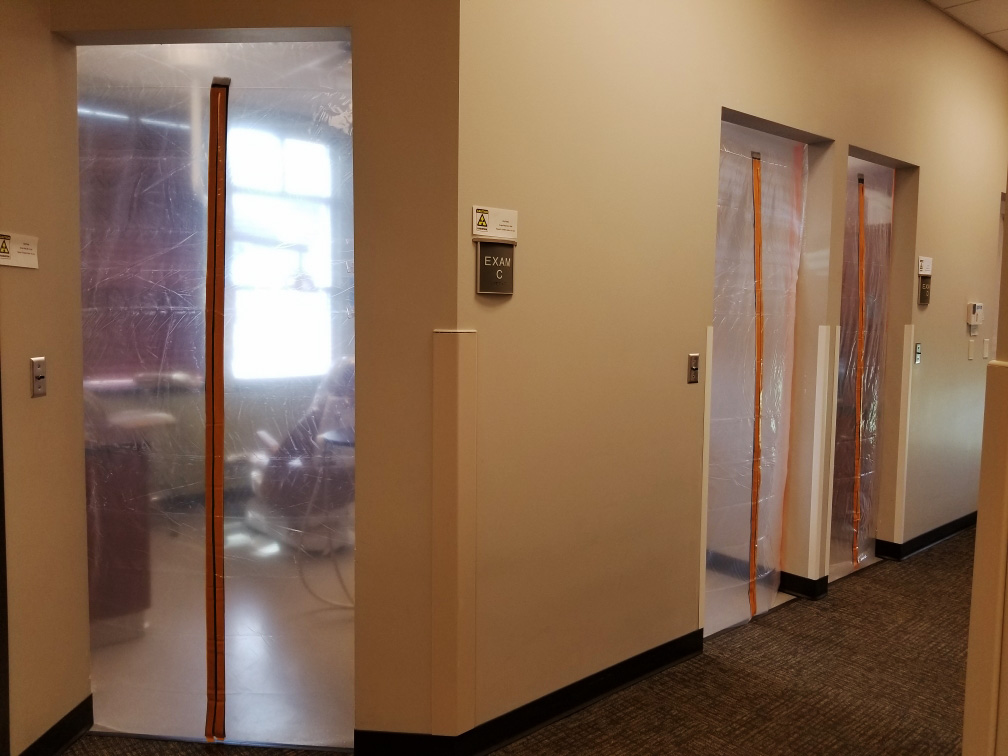 High-efficiency particulate air (HEPA) filters were installed in the dental area that filters air that leaves the exam rooms, before it circles throughout the health center. Additional upgrades are being made to the heating, ventilation, and air conditioning (HVAC) system with filter updates from Minimum Efficiency Reporting Values (MERV) 8 to MERV 13, which will filter out smaller particles and potential traces of COVID-19 and other viruses and bacteria.
For safer dental and hygiene procedures, All Care has purchased a Re-leaf system that quickly and efficiently evacuates aerosols from the oral cavity, minimizing aerosol risk. Our dental PPE use is consistent with CDC guidelines on standard or transmission based precautions—which now means the use of N-95 masks, gowns, gowns, gloves, caps, face shield for procedures that produce an aerosol.
These changes affect every patient that walks through All Care's doors. The air is simply cleaner – the environment remains healthy. Patients have expressed great appreciation of these efforts.
All Care hasn't left behind all of the processes that have become commonplace around the metro: we are screening patients before and before entering the health center at their time of appointment; physical barriers are used when appropriate, as well as social distancing, and masks for source control. All Care Health Center has also purchased a decontamination unit and is implementing procedures for the decontamination and reuse of N-95 masks to assist with the demand and shortage of this PPE, as authorized by the CDC.
Affordable healthcare for all doesn't mean lower quality, or a disregard for safety. All Care's mission stands behind offering "affordable, comprehensive, high quality health care to the entire community." Quality doesn't get better than this.