All Care Health Center began in 1997 as Council Bluffs Community Health Center.
Every year All Care presents community partners or vendors with the All Care Spirit Award. This award recognizes community partners or vendors who support us by helping us meet our mission.
American PCS
Story Street Pantry
Story Street Pantry
American PCS
Pottawattamie County Public Health Department
Service Master
American PCS
Pottawattamie County Emergency Management Agency
Benco Dental
Council Bluffs Fire & Rescue
HOPE Medical Outreach
Care For Yourself
MICAH House
Food Bank of the Heartland
SafeNet RX
American PCS
Food Bank of the Heartland
SafeNet RX
American PCS
Centro Latino
United HealthCare
A+ Printing
Henry Schein
Midwest Advisory Services
Service Master Clean
American PCS
KETV
Quest Diagnostics
Lincare
HOPE Medical Outreach
Bloomworks Floral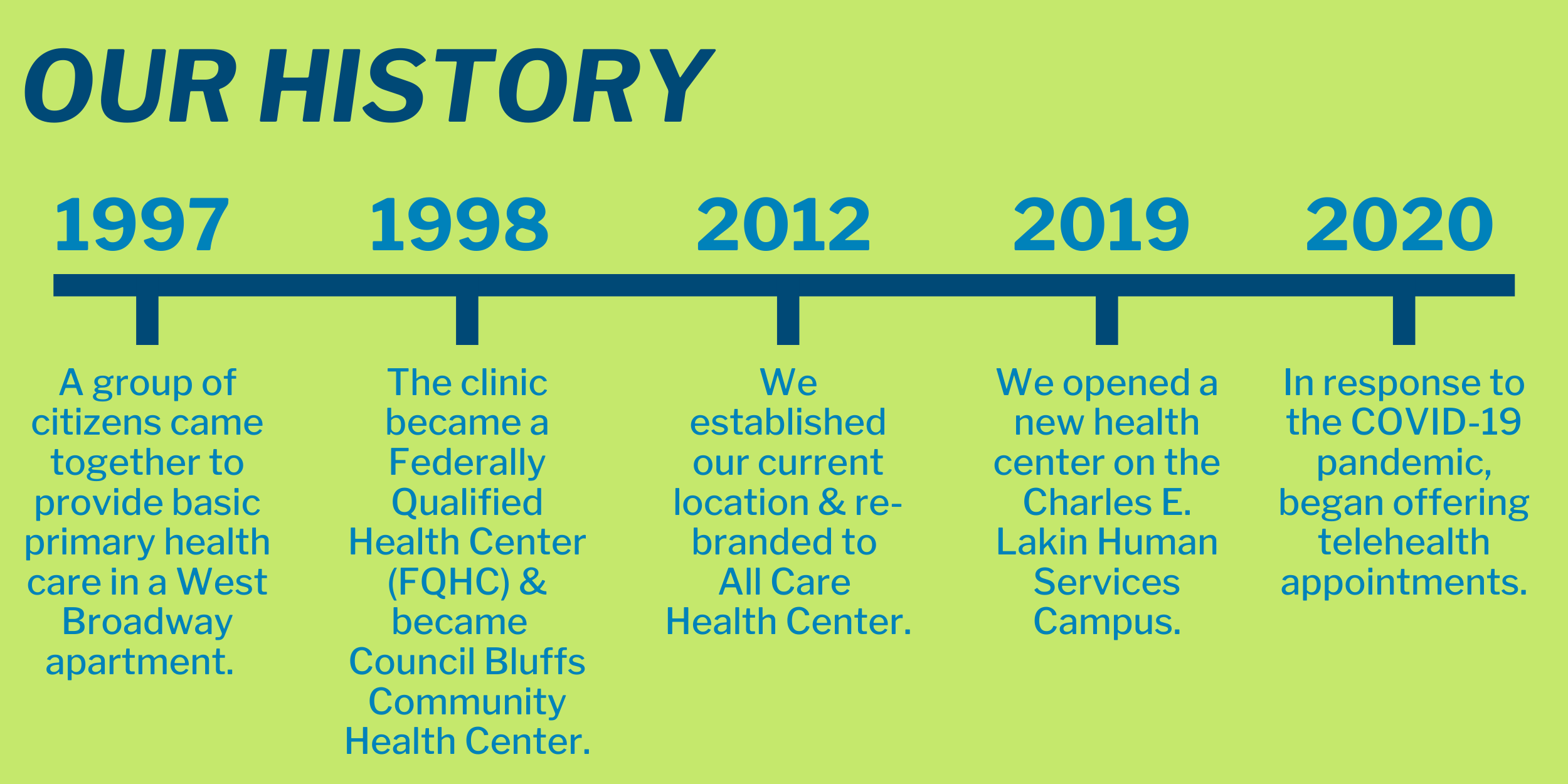 Council Bluffs Community Health Center
The Council Bluffs Community Health Center's original mission was to provide accessible, comprehensive, culturally competent primary health care to the entire community, embracing the opportunity to help those with limited resources and other barriers to quality health care. 
Our original location was at Place 35 in western Council Bluffs. The need for services quickly grew, and in 1998, the clinic was relocated inside the Omni Center as a Federally Qualified Health Center (FQHC).
In 2009, planning began for a new, larger health center to meet the needs of the community.  At this time, comprehensive medical services were provided by three Family Practice Physicians and a Physician's Assistant.  A full-time dentist, a contracted part-time dentist, and a dental hygienist provided dental services.  A contracted mental health therapist worked to meet the needs of patients.
All Care Health Center
In 2012, All Care Health Center settled into our current home at 902 South 6th Street, with the additions of a dental clinic, and pharmacy. Transportation assistance through a handicapped accessible van and other services help us to eliminate barriers for the entire community.
Florence M. Lakin Health Center
In January of 2019, All Care opened a new health center on the Charles E. Lakin Human Services Campus, at 1415 Avenue J, Suite 2, in Council Bluffs.  This new satellite clinic began with medical and dental services, as well as assistance in insurance enrollment.  In 2021, mental health, including medication management services, were added.
Telehealth
In March of 2020, the COVID-19 pandemic created the need for telehealth services.  These services enabled patients of All Care to continue their treatment plans through remote patient monitoring from the safety and comfort of their homes. Our telehealth services are offered for patients' medical and mental health needs.
Becoming Mobile
The pandemic has also created the need for healthcare to become mobile.  All Care is creating programs that reach our patients and community members where they are and where the need exists, beginning with COVID-19 testing and vaccine delivery and administration.