Work Complements Life Passion for Anita Hall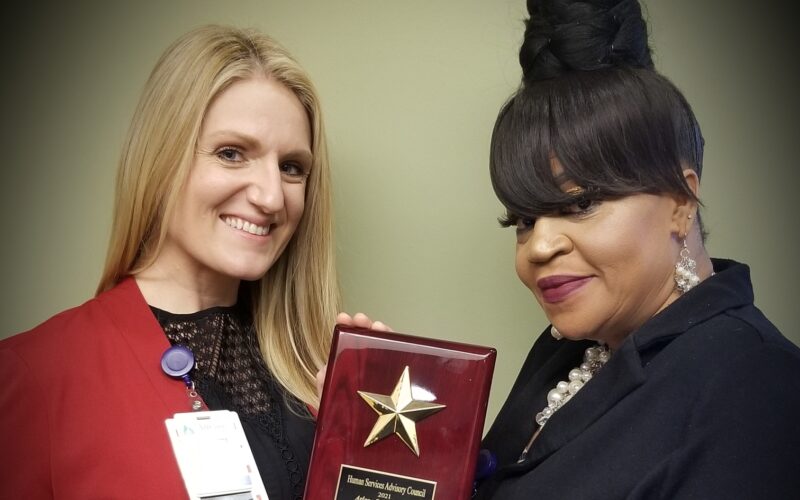 For thirty-three years, Anita Hall has worked in community health. The last seven of those years have been at All Care Health Center, where she is an Eligibility Case Manager. She has also worked at Charles Drew Health Center and says, "All Care, Charles Drew, and One World [Community Health Centers, Inc.] are all sisters to me; I just change my location."
As an Eligibility Case Manager, Anita and the Access Services team at All Care strive to make sure all patients have quality care, with or without insurance. "We help [patients] sign up for health insurance so they can get medicines. Most qualify because they have no income. If they don't qualify, they sign up for the Sliding Fee Scale."
Anita's help goes beyond healthcare assistance. She helps patients, including the homeless, to receive food assistance. "Although meals are prepared at the shelter, it is not a day house. If [homeless guests] venture away, they are on their own for food." Therefore, Anita helps homeless patients to sign up for food stamps, giving individuals approximately $250 a month to buy the food they need.
Along with her Access Services team, Anita helps patients break transportation barriers by securing bus tickets and taxi vouchers, in addition to rides in All Care's patient transportation van. Regarding Access Services, Anita says, "We all stick together. We are a great team."
Anita personally visits All Care's shelter-based clinic at New Visions Homeless Services and the Florence M. Lakin Health Center, adjacent to MICAH House, on a weekly basis. She goes door-to-door every week at MICAH House to welcome new guests and to ensure they have needed food, healthcare, and transportation assistance. When one local homeless shelter placed guests in motels, due to COVID-19, Anita chose to knock on individual doors to make sure food was available and healthcare needs were met. She added this motel location to her weekly rounds.
Anita enjoys taking social work students under her wing, helping them to feel comfortable at the shelters, in a setting that may be new and unsettling. "I try to lead by example," she states.
Anita doesn't just go to work, she lives her work by helping individuals on a much more personal level than a typical Case Manager. She has helped to secure nursing home placement for guests of a homeless shelter, who were not only homeless, but had severe chronic conditions and needed a higher level of care. For several months, she searched and made connections on the outskirts of the county to accomplish this feat. "I want to get everyone the best care possible. Every situation is totally different. I'm trying to get about four guys placed, right now." The process is difficult due to COVID-19.
This personalization continues when Anita helps with food assistance applications. When clients do not have access to a phone, Anita freely gives out her personal number to answer calls, even in the evening and on weekends, to assure applications are processed in a timely manner. "That is the way my heart is set up."
Anita spends a lot of time volunteering, outside of work hours. She enjoys helping at church by cooking youth meals and helping to plan youth trips. She donates to the open door mission and enjoys preparing and serving an annual meal at New Visions Homeless Services, where she coordinates volunteers to assist her. This year, she made and served lasagna, garlic bread, and salad, and completed the meal with dessert. Anita is drawn to the homeless population. "My heart is with them. I wish I could help them all. I really do, but I know I can't. I don't want them to be forgotten about."
On December 10, 2021, the Human Services Advisory Council honored Anita as the Arlene Steege Human Services Professional of the Year. The Human Services Advisory Council, also known as HSAC, is a volunteer-based organization comprised of over fifty service agencies. Together, these agenices work to synergize the efforts of local nonprofits. Annually, HSAC recognizes outstanding members of their organization, as well as those working in the community, donating their time and energy to improve their community and the lives of those in it.
If all of Anita's wishes were to come true, she would open a facility to increase help for the elderly. Each resident would feel like a member of her very own family. Her wishes, like her career and life, surround service to her community. We hope her wishes are granted.