All Care Health Center Hosts Community-Wide Binational Event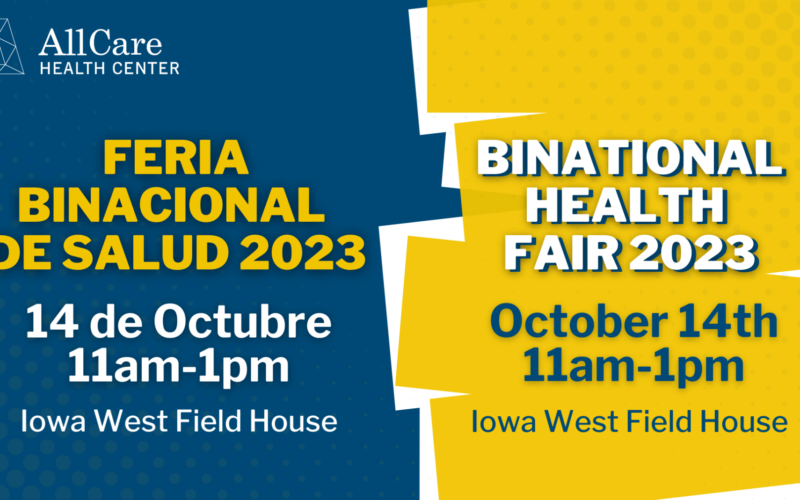 Summary
All Care Health Center will host its annual Binational Health Fair on October 14 from 11:00am to 1:00pm at the Iowa West Field House located at 5 Arena Way in Council Bluffs.
Binational Health Week is an annual event to raise awareness of and respond to the unique healthcare challenges of Latinos living in the United States, Canada, and right here in our own community. During Binational Health Week, government agencies and community-based organizations come together to promote healthcare services and health education activities.
Our local Binational Health Fair will be held on Saturday, October 14, from 11:00am to 1:00pm at the Iowa West Field House, located at 5 Arena Way in Council Bluffs. The event features a collection of resources available to not only All Care's Hispanic patients, but to all individuals served by our event partners, and anyone seeking healthy resources in our community. Event guests can receive free diabetes screenings, free clinical breast exams, free confidential sexually transmitted infection screenings, and free blood pressure checks. Story Street's mobile food pantry will be on-site and Methodist Health Systems will be providing a limited supply of free flu shots. Participants can also expect resources for mental health, chronic diseases, women's health, nutrition, weight management, access to healthcare, and other community services. Collaborative event partners include Care for Yourself; CHI Health-Bergan Mercy; Food Bank for the Heartland; Jennie Edmundson; Pottawattamie County Public Health; Nebraska Methodist College; Catholic Charities; Alzheimer's Association; Connections Area Agency on Aging; Every Step Hospice; Bridges Out of Poverty; Planned Parenthood; Pottawattamie County Women, Infants, and Children Program; Radio Talking Book Services; Iowa Legal Aid; Angels Care Home Health; National Alliance on Mental Illness; Molina; and Centro Latino; Story Street Pantry; and other agencies to be confirmed.
The annual Binational Health Fair will have a new look as All Care Health Center hosts the event at the Iowa West Field House. This new venue was secured after feedback from our large number of participating community partners pointed out that the event was simply outgrowing the space available at All Care. Venue funding assistance is provided by The Human Services Advisory Council (HSAC), who seeks to synergize the efforts of non-profit organization in and around Council Bluffs to maximize their impact and help to improve the lives of the people in this community. We believe that the new location is in a great neighborhood to reach the Hispanic Community and look forward to the ongoing increasing attendance.
All Care Health Center provides affordable, comprehensive, and high quality healthcare, including primary healthcare, mental healthcare, and dental care to the entire community. Services are available at All Care's main health center located at 902 S. 6th Street, Council Bluffs, and at the Florence M. Lakin Health Center at 1415 Avenue J, Suite 2, also in Council Bluffs. All Care provides services to students of the Council Bluffs Community School District through All Care's mobile medical center. A private clinic at New Visions Homeless Services is available to their guests. All Care Health Center welcomes new patients. Appointments can be made by calling (712) 325-1990.