Students can Share Education through Art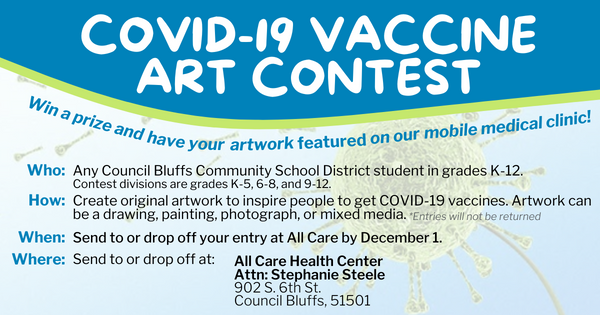 How can students wrap up their love for art, science, and public service in a single project? Enter All Care Health Center's COVID-19 Vaccination Art Contest!
The contest challenges students to convey a message through art. The task is to create a piece of original artwork that will educate the community about COVID-19 vaccines or inspire community members to get vaccinated. Artwork can be a drawing, painting, photograph, or mixed media in two dimensions.  
Students in the Council Bluffs Community School District in grades K – 12 are eligible. Entries should include the student's first and last name, grade, and school. Entries can be dropped off or mailed to All Care Health Center, at 902 S. 6th Street, in Council Bluffs, by December 1, 2023. Entries may not be returned.
Winners will be chosen from contest divisions of grades K-5; 6-8; and 9-12 and will receive a poster print of their artwork. Posters may shared in our community and on social media. Winning entries will be featured inside the mobile medical health center.
Funding for this project is provided by the Health and Resources Services Administration (HRSA) through Expanding COVID-19 Vaccination (ECV) awards made to health centers to increase access to, confidence in, and demand for updated COVID-19 vaccines within their service areas. The purpose of the ECV funding is to educate the community about COVID-19 vaccines and to encourage vaccination in the community, with an emphasis on outreach and education, community engagement, and coordinated partner events that increase updated COVID-19 vaccinations among underserved populations.
Visit the Centers for Disease Control and Prevention (CDC) to learn about COVID-19 and vaccines.